The uptake of AI is projected to contribute an additional USD 15.7 trillion to the global economy by 2030, with Africa, Oceania and other Asian markets contributing  USD 1.5 trillion of this. However, African governments' limited readiness to adopt AI, coupled with unregulated environments, has encouraged private companies to enter the market and fill service delivery gaps.
Improved farming solutions in Kenya, management of medical supplies in Rwanda, and on-demand delivery of blood for urgent care in Nigeria are just some of the current examples of the application of AI in Africa. AI has even been mooted as a way to address thorny geopolitical disputes – scientists have applied the power of AI to develop a potential solution for the conflict over the Grand Ethiopian Renaissance Dam (GERD). Across these sectors, AI offers alternative solutions to problems unresolved by African governments. AI has the potential to improve access to, and availability of, medical care, boost agricultural productivity, and strengthen financial services to marginalised populations, especially where governments are weak or absent.
Government readiness
Technology has always advanced faster than the government's ability to adopt it, but Africa is lagging behind the rest of the world. Sub-Saharan Africa was the lowest ranking region on the Government AI Readiness Index produced by Oxford Insights, with an average score of 31.61%, on account of the lack of the core infrastructure necessary to establish and support an AI ecosystem. As a result, AI is projected to have a lower impact on GDP growth in Africa and other frontier markets by 2030 than elsewhere.
Private sector response
Nevertheless, the private sector is stepping up. The chart below demonstrates the growing number of AI specialised companies in Africa as of 2022, with South Africa in the lead. In East Africa alone, there are 328 companies specialising in AI services, of which 40% have been founded since 2017. The AI scene is flourishing with over USD 1 billion invested in Africa from private players such as Google bridging the gap neglected by governments. Over USD 500 million was invested in 120 companies across 12 different African countries in 2019.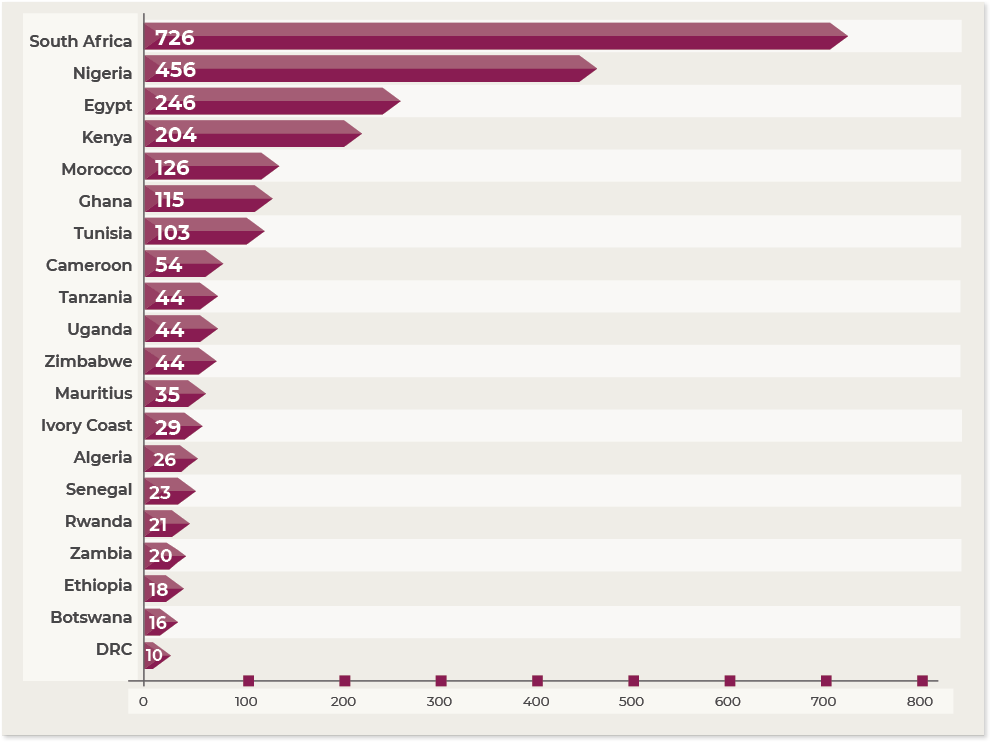 While governments in Africa will find it difficult to keep pace with counterparts in more advanced economies concerning the implementation of AI, it is clear that private investment in AI has the potential to augment service delivery gaps where governments lack capacity. In Kenya, food security challenges are being addressed by remote monitoring solutions and automatic data analysis has improved crop management and farm productivity. In Nigeria, financial access has been expanded through a chatbot providing direct payment services through social media.
With more pressing development issues, including food security, education access and power shortages, a reluctance to adopt deep technologies is perhaps unsurprising. However, it is imperative that African governments and policymakers understand the extent of AI's benefits and develop implementation strategies. Only two countries have developed national AI strategies – Kenya and Mauritius – with Nigeria, South Africa, Egypt and Ghana still in the process. The pace of private investment in AI, and its use in service provision, will be determined by the effective implementation of these national plans.
About the Author
Sheena Shah is an Analyst at Africa Practice, focusing on in-depth research and socioeconomic impact. She can be reached at [email protected]