The European Commission's proposal to end Europe's reliance on Russian gas "well before 2030", in response to Russia's invasion of Ukraine, creates an immediate window of opportunity for African gas exporters. The EU plans to displace 155 bcm per year of gas consumption ⁠— equivalent to the volume imported from Russia last year ⁠— through a combination of demand reduction and leveraging supplies from other sources.
Africa has an estimated 23 tcm of natural gas reserves, and regional gas production is reportedly increasing at 5.6% per year. This makes Africa the fastest-growing region globally, with gas exports forecasted to reach 295 bcm per annum by 2025.
In 2021, the EU imported about 140 bcm of gas by pipeline and 15 bcm as LNG from Russia – equal to around 45% of the bloc's total gas imports. The EU is now seeking to secure another 50 bcm of LNG from other sources by the end of 2022, some of which can be sourced from Africa, as we detail below.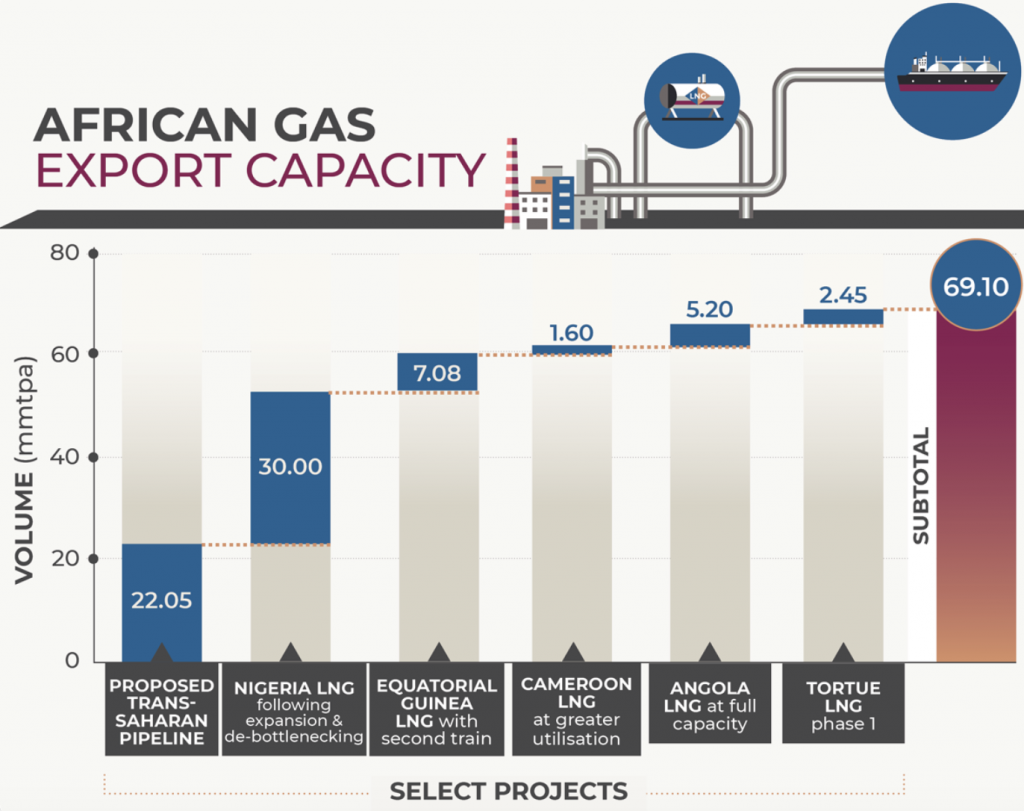 Nigeria
Nigeria has an estimated 6 tcm of natural gas reserves, which account for the majority of proven reserves on the continent. In 2021, Nigeria produced an estimated 59 bcm of gas, from which 23.3 bcm was exported to Europe. The country is embarking on two major infrastructure projects to increase gas exports. The Trans-Sahara gas pipeline, which is designed to transmit gas from Warri in Nigeria to Hassi R'Mel in Algeria, to link up with the existing Trans-Mediterranean, Maghreb-Europe, Medgaz and Galsi pipelines to Europe; and the Train 7 project, which promises to increase the capacity of the Nigeria LNG facility in Bonny by 35%.
However, both plans have been hampered by widespread insecurity, a shortage of financing and concerns over the country's gas production outlook. Nigeria's minister of state for petroleum resources Timipre Sylva argued that while the federal government was committed to the construction of the 30 bcm Trans-Sahara gas pipeline, the country may lack sufficient capacity to export gas in the near future, thus raising concerns about its ability to bolster European energy security. By contrast, the Nigeria LNG upgrade includes work on new wells and pipelines to supply additional feed-gas to the plant. The seventh LNG train, which is currently under construction, will have a production capacity of 4.2 mmtpa, while work to debottleneck the existing six trains promises to augment output by a further 3.4 mmtpa, bringing the plant's total capacity to 30 mmtpa.
Central Africa
Nigeria is not the only country working to expand its LNG production. Equatorial Guinea LNG currently has a single 3.4 mmtpa train, but plans for a second 4.4 mmtpa train have been mooted with a view to leverage stranded gas in Cameroon and Nigeria. Nigeria's national oil company NNPC appears open to using gas processing facilities at Punta Europa; however, this would require a new pipeline to be built.
Incremental progress is being made at Cameroon LNG, a floating facility on the Gulf of Guinea. The Hilli Episeyo vessel currently has the capacity to produce 2.4 mmtpa, however, output has remained low since it was commissioned in 2018. Operator Perenco is pursuing a contractual option to increase utilisation by some 400,000 tonnes per year, taking the total output to 1.6 mtpa from January 2023 onwards. 
Angola
The Angola LNG plant is also set for a boost. This single train facility with a production capacity of 5.2 mmtpa had risked running short of feedstock as gas output declined at offshore blocks; however, legislative changes introduced by President João Lourenço's government have enabled operators to exploit non-associated gas discoveries for the first time. 
The New Gas Consortium is developing the Quiluma and Maboqueiro fields on offshore block 2, and plans to build a new gas processing plant in a bid to maintain output. Energy majors BP and Eni have just merged their Angolan upstream portfolios into a new joint venture company, Azule Energy, which is set to assume a leadership role in the consortium.
West Africa
First gas from BP's Tortue LNG project offshore of Senegal and Mauritania promises to hit the market as soon as next year. Gas from Tortue is being processed by a floating production, storage and offloading (FPSO) vessel, before travelling 35km through to a dedicated floating LNG facility with a production capacity of 2.45 mmtpa.  Work on a 1km-long concrete breakwater required to secure the LNG vessel was delayed during the COVID-19 pandemic, but the project is now back on track. 
Once Tortue is operational, BP and its partners are likely to explore subsequent phases of the project, which may result in an additional floating LNG plant being moored at the site, as well as developing additional gas deposits in the basin, including the Yakaar and Teranga fields off Senegal, and BirAllah off Mauritania.
Feasibility
If all of these projects come off, Africa could provide Europe with an approximate 69 mmtpa (94 bcm) of gas. 
While Africa evidently has the potential to diversify Europe's gas supplies and boost regional energy security, critical socio-economic, inter-governmental, infrastructural and financial challenges need to be overcome for major projects to succeed. 
These challenges span across the entire value chain, from gas production fields to LNG marketing. For Europe to realise this, potential investors will need to develop a strong understanding of the peculiarities of each market, the policy and regulatory landscape, as well as the risks and opportunities.
Africa Practice can help international investors to understand these dynamics and to realise opportunities through the creation of mutually beneficial relationships. Read more about our services here.
About the authors
Agwu Ojowu is a Consultant at Africa Practice. He can be contacted at [email protected]
Nick Branson is a Senior Consultant at Africa Practice. He can be contacted at [email protected]
*Image credit: BP p.l.c.