With its world-class resource base and enviable peace and security record, Zambia is well placed to benefit from growing global demand for copper. The nation's 100 year history of mining and the fact that so many persons in government have grown up in mining communities or worked in the copper industry,  has endowed it with a deep-seated institutional knowledge of the sector, which Tom Albanese, former CEO of Vedanta Resources and Rio Tinto, refers to as 'The Zambian Advantage.' 
After a period of fractious and often damaging relations between miners and the government under former President Lungu's administration (2015-2021), President Hakainde Hichilema (popularly known as 'HH') has introduced more business-friendly practices in an effort to reboot Zambia's economy and restore the mining industry's competitiveness.
Established copper producers such as First Quantum Minerals (FQM) and Barrick have been readying themselves to invest in mine expansion projects, while other global investors have been looking to raise finance for Zambian projects once again. "Lots of people have been coming through to kick the tyres," confirms Sokwani Chilembo, CEO of the Zambian Chamber of Mines. "It's heating up on the exploration front, with fresh rounds of capital raising," he says.
A lot depends on whether the litigious impasse with Vedanta can be resolved and new investment into the Konkola Copper Mines (KCM) deep mine shaft can be found. The government needs to find a deep-pocketed investor to operate and finance the expansion of Mopani Copper Mines also, which was transferred to ZCCM, the state mining investment firm, by Glencore last year. At full capacity, these two operations account for nearly 1.5m tonnes of Zambian copper output. The government cannot continue to operate both KCM and Mopani at the scale required for them to be competitive, leading many commentators to believe that a major diversified miner will come into the market in the next twelve months.
Meanwhile, President Hichilema has been slowly seeking to tackle other legacy issues that have blighted the industry's competitiveness, including revisions to the tax regime. HH nominated Situmbeko Musokotwane – who served as finance minister under former president Rupiah Banda – to return to the treasury. Musokotwane's first budget statement allowed miners to deduct royalties from income taxes, resolving a situation which miners had decried as amounting to double taxation. Musokotwane left mining royalties unchanged, however, recognising the advantages of Zambia's sliding scale of 5.5% to 10%, depending on the copper price. Buoyant markets have seen Zambia benefit from super royalties at the premium 10% rate over the past 15 months.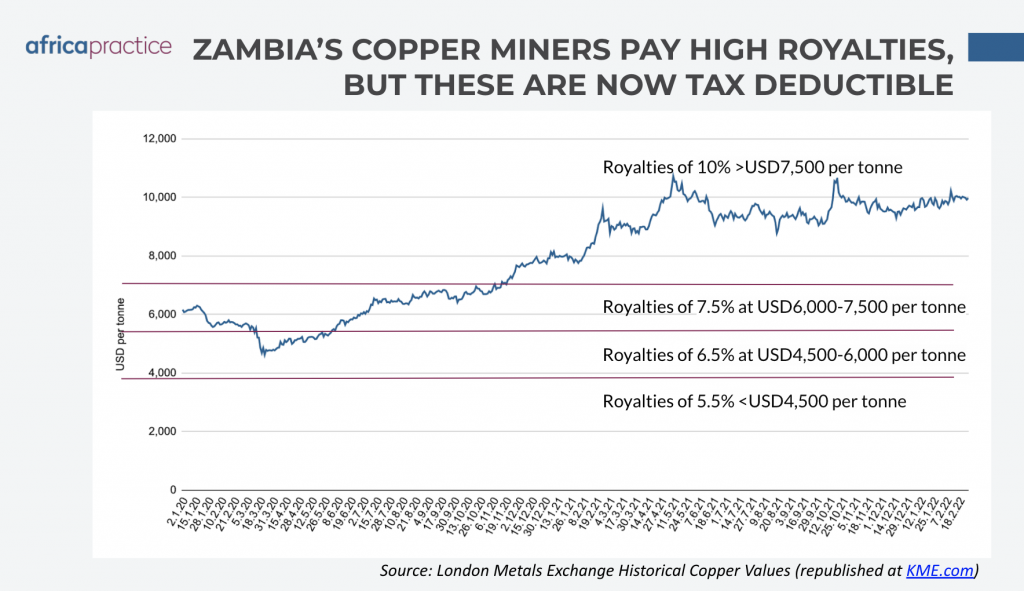 "There's more to be done on the fiscal reform front and the sliding scale in particular," insists the Chamber of Mines' Chilembo, "and we are raising these points and getting a fair hearing from the government." The Chamber is also seeking reforms to duties levied on capital expenditure, which were introduced by former president Lungu's administration. "These need revisiting in order to ramp up production," Chilembo says, "as do withholding tax provisions for geological exploration consultancy – we cannot afford to pay 20% more than other jurisdictions for skills that we need so desperately." Meanwhile, the Zambia Revenue Authority's Commissioner-General has been at pains to reassure miners that outstanding VAT receipts will be honoured in the fullness of time – another legacy of the Lungu administration.
Lowering mining energy tariffs would further help to restore the competitiveness of Zambia's copper exports, and the Chamber has been arguing for this too. The outcome of debt restructuring with international creditors and negotiations for a new IMF programme are likely to determine how quickly and confidently the government can move ahead with such reforms. The omens are good, with this administration enjoying an abundance of goodwill from the international community, and the president acknowledged as a pragmatic economic custodian. HH has also installed a competent central bank governor capable of stabilising the currency and restoring monetary stability.
HH's ambitious goal of increasing copper output to 2 million tonnes by 2026, and restoring Zambia to the status of largest producer in Africa, will require investment in exploration and expansion at a scale not seen since Queen Elizabeth II visited Chingola in the 1970s. With copper markets around the USD10,000 per tonne mark, demand forecast to remain strong, and an engaged government committed to stable and predictable policies, you would be foolish to bet against HH realising the 'Zambian Advantage'.
About the Author 
Marcus Courage, CEO at Africa Practice.
Written for Mining Review Africa
*Image credit: African Mining Market