Our Mission
ClimateWorks Foundation – a global platform for philanthropy to innovate and accelerate climate solutions that scale – commissioned Africa Practice to research the enabling environment for climate philanthropy on the continent. While Africa is not currently a significant producer of greenhouse gases (GHGs) at a global level, it has the potential to be in the future, and ClimateWorks recognised the opportunity to prevent large-scale future emissions by taking action now.
In conjunction with Africa Practice, ClimateWorks selected six African markets with viable entry points for engagement by philanthropic organisations focused on climate change. Kenya was chosen as a pilot case study, given its receptiveness to international funding, with subsequent studies focused on Ethiopia, South Africa, Nigeria, Ghana and Senegal. 
Our Action
Africa Practice developed a bespoke political economy analysis framework for the studies, identifying key stakeholders, policies, networks, and areas for engagement by philanthropic organisations. This enabled ClimateWorks to understand feasible entry points into the six countries, as well as tangible opportunities for philanthropic engagement and potential partnerships. We also assessed the sectoral risks and opportunities, examining trends in urbanisation, electrification, industrialisation, land use change and the oil and gas sector.
This process helped ClimateWorks to build a robust strategy for investment and engagement across Africa, taking into account the respective strengths and weaknesses of the six markets. Our assessment of the political, institutional and sectoral enabling environment for climate investments in each of the six countries is captured in the matrix below: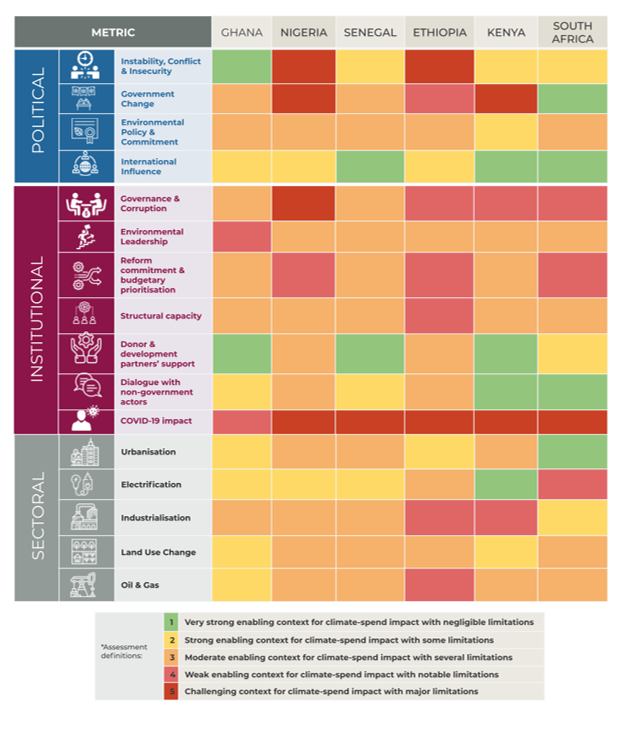 The Outcome
With ClimateWorks' support, we published the six studies on our website, establishing a new resource for philanthropic organisations considering engagement in Kenya, Ethiopia, South Africa, Nigeria, Ghana and Senegal. This will help to inform investment in the climate change mitigation and adaptation measures, as well as the energy transition, across sub-Saharan Africa's leading markets.
We also secured coverage in the global print and broadcast media, including in leading energy industry magazine ESI Africa and regional television network CNBC Africa, ensuring widespread dissemination of our key findings.