Our mission
In June 2019, Google announced the Equiano subsea internet cable that will ultimately run from Portugal to South Africa along the Atlantic Coast of Africa. So far in 2022, it has landed in Sesimbra (Portugal), Lomé (Togo), Lagos (Nigeria), and it is expected to land in Swakopmund (Namibia) and Cape Town (South Africa) later this year, with branching units in place for further phases of the project. In 2021, the cable landed in Rupert's Bay (Saint Helena).
Google commissioned Africa Practice to create a series of reports examining the cable's impacts on internet connectivity and the economy more broadly (including sustainability) in the countries that it will connect. 
Our action
Working closely with the Google team and our modelling partners Genesis Analytics, we produced a set of authoritative reports detailing Equiano's contribution to quicker and cheaper internet access, accelerated economic growth and job creation, as well as reductions in CO2 emissions following the cable's landing. 
Alongside the economic impact assessments, we prepared intelligence-driven briefing notes for Google's leadership ahead of business-critical decisions, as well as high-profile engagements with policymakers and senior officials.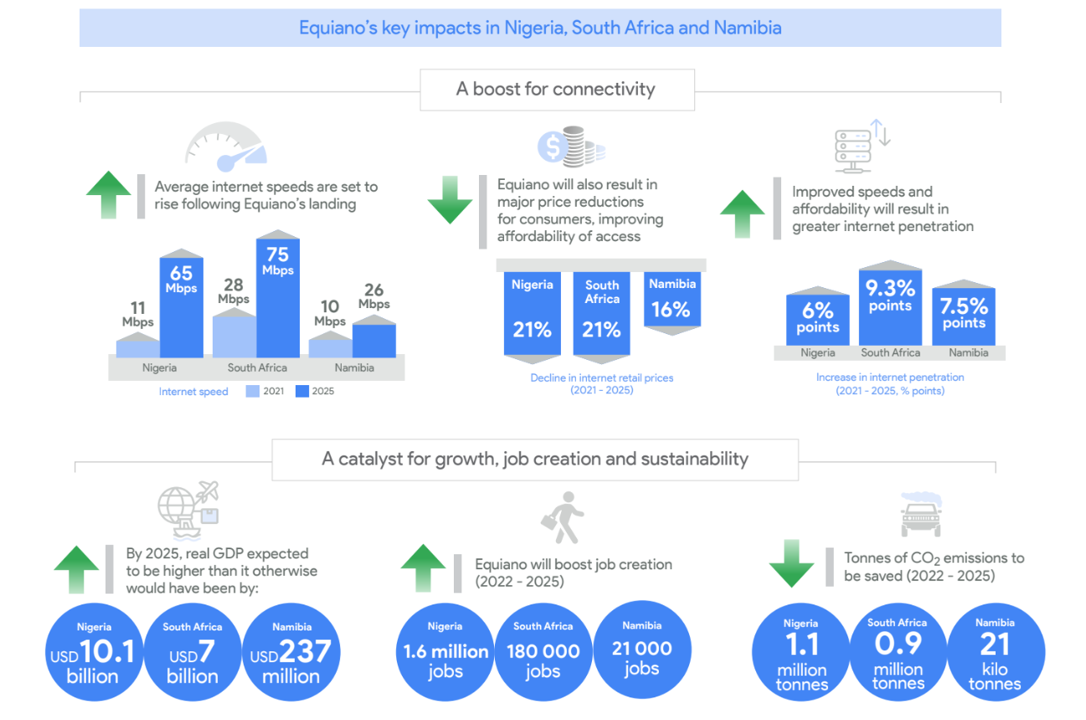 Our impact
Our series of economic impact assessments helped Google showcase the expected effects of its subsea internet cable, boosting the cable's public profile (see coverage by Quartz and Reuters). The reports and impact metrics have also been used by our client to engage key stakeholders, officials and partners to cement buy-in for this transformative infrastructure project. 
Our findings
We found that Equiano can accelerate progress towards achieving the SDGs by 2030. SDG 17 – Partnerships for the Goals – emphasises that technology is a cross-cutting theme that underpins the attainment of all other SDGs, including economic development, health and education. 
The series of reports to date includes Togo, Nigeria, Namibia, and a regional economic impact assessment.