Our Mission 
At the sidelines of the United Nations General Assembly, New York (September 2019), there was a consensus on the need for a pan-African platform to mobilise and coalesce key stakeholders to address blood and blood product challenges in Africa.
It is on this premise that the Coalition of Blood for Africa (CoBA) was conceptualised and established on 10 November 2020. CoBA is the only organisation proactively driving the agenda for unified approaches to ensure access to safe, sustainable and safe blood for Africa. (CoBA Africa, 2022)
CoBA is a multi-stakeholder platform that brings together the public and private sector, research, academia, media, not-for-profits, civil society and others all committed to the cause. Africa Practice, given our extensive years of advisory experience across the continent, houses the secretariat that oversees the day-to-day running of CoBA.
Our Action 
Africa Practice began by first designing the look and feel of CoBA. We set out to develop a new website managed by Africa Practice and develop creatives that are aligned with what we want CoBA to be seen and known for.
To deliver on the Coalition objectives, we anchored the Coalition on three pillars: Reflection – research, policy and data collection; Dialogue – awareness creation on blood and blood safety; Action – provision of technical assistance, including capacity-building activities and activities such as blood collection drives or providing technical inputs to strengthen blood-related legislation and policy, for example, sickle cell disease guidelines.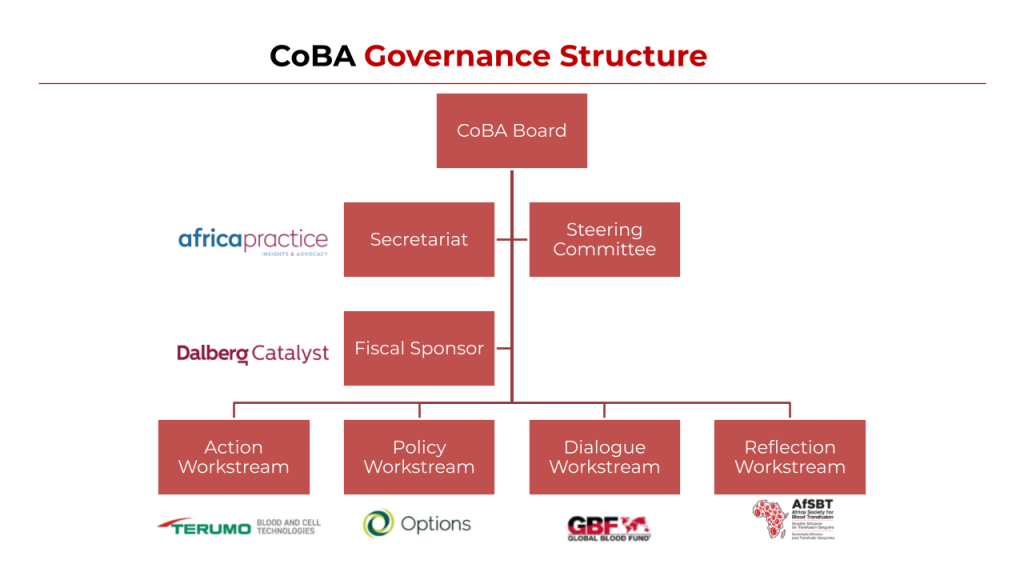 To ensure the sustainability of its operations, Africa Practice is working with various partners to: 
Crowd-in resources and investment for research, advocacy, and action through a partnership program, as well as other fundraising initiatives 

Enable the recruitment of regular non-remunerated donors 

Address the greatest unmet patient needs for blood, in particular:
Blood and Bleeding disorders e.g. sickle cell disease, haemophilia, etc

Maternal deaths caused by postpartum haemorrhage
Our Impact 
Since its launch in 2020, we have embarked on a number of pilot projects under each of the pillars to grow partnerships and raise the profile of the organisations in the continent. The outcome of this is that we have received recognition from the World Health Organisation (WHO), Africa CDC and various ministries of health in Africa for the great work the Coalition is doing on the continent.
CoBA set out to develop and operationalize 4 mutually-reinforcing working groups  to support its mission. These are; Action WG led by Terumo Blood and Cell Technologies which focuses on technical assistance, programme design and implementation. Reflection WG led by the African Society for Blood Transfusion that leads the research initiatives that drive robust blood and blood products data-driven decision-making. Dialogue WG led by The Global Blood Fund and drives advocacy and awareness raising and lastly  Policy WG led by Options UK engages on blood and blood products policy issues that build resilient health systems.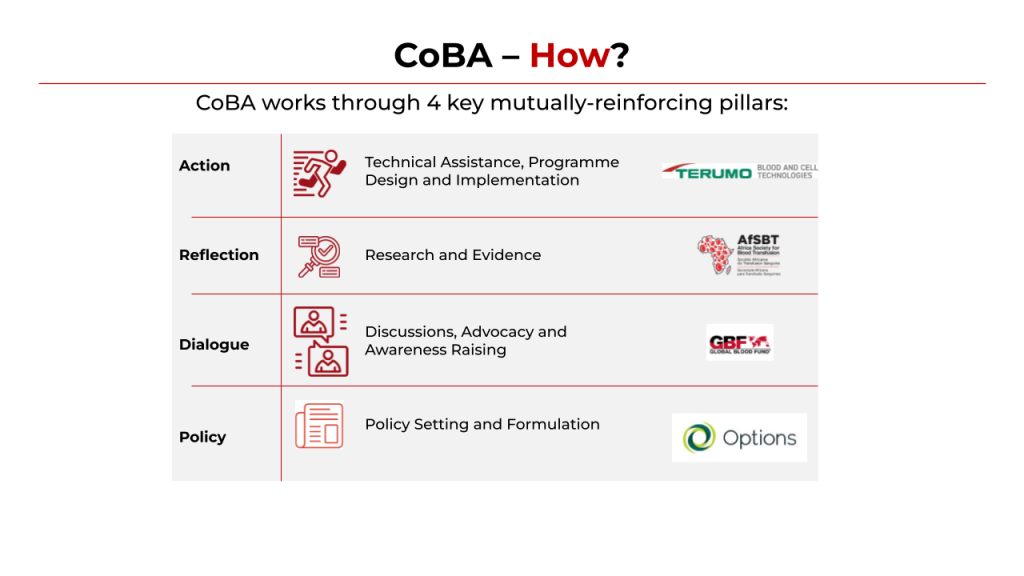 We have further supported several blood drives in Kenya; one notable one was in 2021 when we organised a blood drive for mothers during the International Women's Day celebrations in March. The 'Blood for mothers campaign' received a lot of attention on social media with local influencers such as Gladys Gachanja and Chantelle Petit speaking extensively about the cause on their social media platforms. Working closely with partners and the Kenya National Blood Transfusion Service, we were able to collect 3774 units of blood against a target of 3000 – an outstanding amount of blood going towards saving a mother and a child's life. This was one of the highest collections received in the last year in Kenya in three days.  
Additionally, we partnered with the Global Blood Fund and the Africa Society for Blood in Africa to roll out a 'Give Blood Song' during the World Blood Donor Day celebrations in July that year. The song, which was in five languages, was disseminated across Africa and received exposure in various African media publications. To amplify the song further, a new partnership was forged with Facebook leveraging Facebook Ads credits across 14 Anglophone and Francophone African Countries to raise awareness on the importance of giving blood. The campaign reached approximately 2 million users per country with a call to action to donate blood at their nearest blood collection point. 
At the side-lines of the 7th Africa Health Business symposium held in February 2022 on The role of the private sector in advancing Women's health in Africa, CoBA held a roundtable on The Role of Blood in Strengthening Health Systems to Mitigate PPH in Sub Sahara Africa. Keynote addresses included Dr. Nduku Kilonzo, Head of the Kenya National Blood Transfusion Services, and H. E. Caroline Wangamati, First Lady, Bungoma County.
 During the Kenya Blood Transfusion and Transplant Conference held on 29th June 2022. CoBA held a side event under the theme Building Coalitions to advance the blood agenda.