Our Mission
Animal food prices have been on an upward trajectory globally since 2020. This has been attributed to a shortage of raw materials such as maize, soy, and oil cakes, compelling manufacturers to raise prices. Uncompetitive feed prices have hurt farmers and animal feed manufacturers, leading to increased food insecurity and massive job losses. 
The Rockefeller Foundation sought to increase the sustainable production and supply of animal feed in Kenya. It supported the International Center for Insect Physiology and Ecology (ICIPE) with a grant to test sustainable business models for scaling insect-based feed for poultry and aquaculture farming in Kenya. Insect-based feeds are high-quality feedstock that can be utilized as an ingredient for feed for animals.
Together with other development partners and through ICIPE, the Foundation has collaborated with the Kenya Bureau of Standards, Kenya Wildlife Services, and other partners to support developing protocols for producing and processing insect-based feed. ICIPE  was also mandated to train farmers,  set up more small-scale insect-based enterprises, and develop substrate recipes for feed formulation. 
Through its partners, The Rockefeller Foundation also facilitated the formation of the Black Soldier Fly Association in Kenya.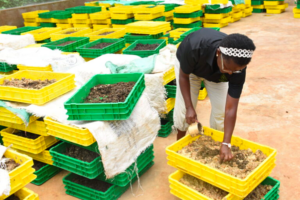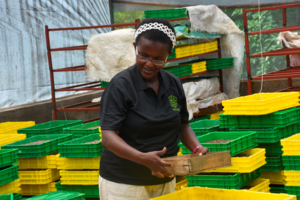 Caption: Rosanne Mwangi scoops up two handfuls of squirming Black Soldier Fly (BSF) larvae at her farm in Murang'a.   She rears  BSF to feed her chickens and pigs.
Our Action
Africa Practice developed and implemented an integrated communications campaign to raise awareness and build visibility on the insect-based feed industry in Kenya. We developed a range of communication support material including backgrounders, fact sheets and social media assets to educate the public and various stakeholders on insect-based feeds. 
A virtual tour of an insect-based feed farm was created as part of our campaign, providing a great opportunity to build an immersive experience and enhance understanding of the production process. This was presented during the annual African Green Revolution Forum (AGRF) in 2020. 
Additionally, by working with the media, we developed in-depth features and documentaries focusing on the insect-for-feed industry in Kenya. We provided first-hand experience of the rearing process, shared key requirements for starting a business in this sector and provided an overview of the sector's potential in Africa.
Our Impact
The integrated communications campaign scaled up awareness of insect-based feeds and stimulated interest amongst various stakeholders in the  East African agricultural community; generating several in-depth media features in regional and national media outlets across the continent. 
Through implementing a robust digital strategy, thought leaders conducted engaging conversations focused on building enabling policies and protocols that will play a significant role in catalysing the insect-for-feed industry in Africa. 
This has also stimulated further interest in research on animal feeds and feedstock recipes for the optimal production of insect-based feeds.