Gabon is the world's second largest producer of high-grade manganese ore (45-50%), behind South Africa. Output stood at 7 million tonnes in 2021 and is projected to reach 12 million tonnes by 2024. In addition to leadership in manganese, the country has over one billion tonnes of untapped iron ore reserves, coupled with a well-established extractive industry and a strong commitment to leverage minerals for economic diversification.
The mining sector accounted for 6% of Gabon's GDP and 6% of exports in 2020; however, it is becoming increasingly important as the government seeks to offset the decline of the oil and gas industry. The country's hydrocarbons sector developed under the supervision of energy majors Shell and Total, but as reserves have been depleted, such deep-pocketed players have divested in favour of mature field specialists Perenco and Assala. Developing the potential of the mining sector and preparing for the energy transition is therefore a key focus of Gabon's national development plan – Plan Stratégique Gabon Emergent (PSGE).
The thriving manganese sector is dominated by three companies, France's Comilog (Eramet), India's Nouvelle Gabon Mining, and China's Commercial Industrial and Mining Company. These players have leveraged Gabon's ore to develop a local processing industry, thereby adding value to the country's exports and strengthening social licence. The country has further capacity for industry development off the back of unexploited deposits of rare earths, niobium, uranium, copper and zinc.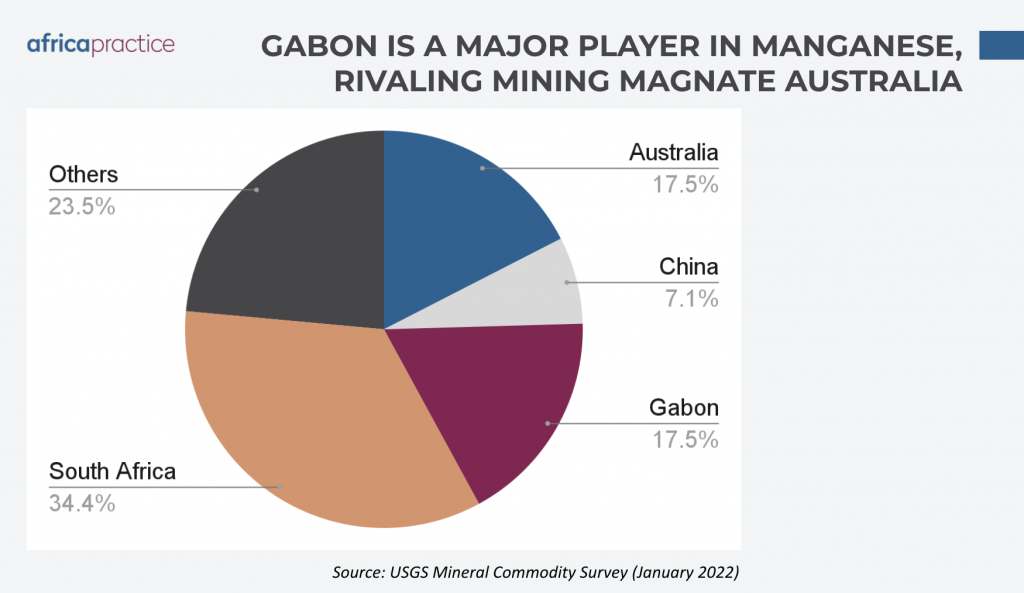 The country enjoys a high degree of political and social stability, with the Bongo family at the helm of the country for over 55 years. Gabon acts as an investment hub for the Central African Economic and Monetary Community (CEMAC) region, thanks to national expertise in the extractive industries. 
Gabon also has abundant gold resources. The sector was historically dominated by Morocco's Managem; however, in 2017 the company closed its Bakoudou industrial mine. Gabon's gold output – which reached 2 million tonnes in 2021 – now comes mainly from alluvial production. New entrants have taken up the challenge, with Jilin Mining Resources (JMR) receiving an exploration licence in 2019, while Managem is carrying out exploration work on the Etéké gold project, and Alpha Centauri Mining is expected to launch the country's first gold refinery in mid-2022. 
These companies are responding favourably to Gabon's Mining Code, which was amended in 2019 to clarify the legal environment and provide a more stable framework for investors. The code was built around a "win-win" model for foreign investors, with balanced tax breaks alongside provisions for greater state participation. In addition to an existing 10% state shareholding, the new code entitles the state to a 10% share of production (deductible from investments). The Société Equatoriale des Mines (SEM), the national mining company, manages Gabon's participation in mining operations. Daniel Marini, a mining expert based in Gabon, said that "the time has come for junior miners to enter the market and conduct exploration activities. The new mining code and government's economic diversification agenda provide the necessary incentives." He added, however, that "companies setting up in Gabon will need to pay particular attention to environmental and social issues, given the state's commitment to its natural resources, including primary tropical forests."
The reforms have helped Gabon to attract major new players in iron ore, which is set to become a strategic sector as Fortescue explores plans for Belinga – dubbed the "new Pilbara." Covering some 5,500 km² in the north-east of the country, Belinga is one of the world's last unrealised deposits, with one billion tonnes of high-grade iron ore. Fortescue initially began evaluating Belinga in 2018, but in December 2021 the company inked an exclusivity deal with the government, giving it 36 months to study the project's potential development. If satisfied, Fortescue will negotiate a mining convention, taking an 80% stake in the project under an incorporated joint venture with the Africa Transformation and Industrialisation Fund. 
One of the challenges of developing Belinga will be the construction of a 420km railway and a new deepwater port to evacuate the ore. However, the Gabonese government's commitment to diversification indicates that the project is well positioned to proceed. The completion of the Owendo mineral terminal in 2017, managed by the Olam Group, is a testament to the feasibility of public-private partnerships to galvanise investment in key export infrastructure.  
About the Author
Antoine Drogoul, Associate Consultant at Africa Practice, with a particular focus on Francophone Africa. He can be contacted at [email protected].  
Written for Mining Review Africa
*Image credit: Eramet