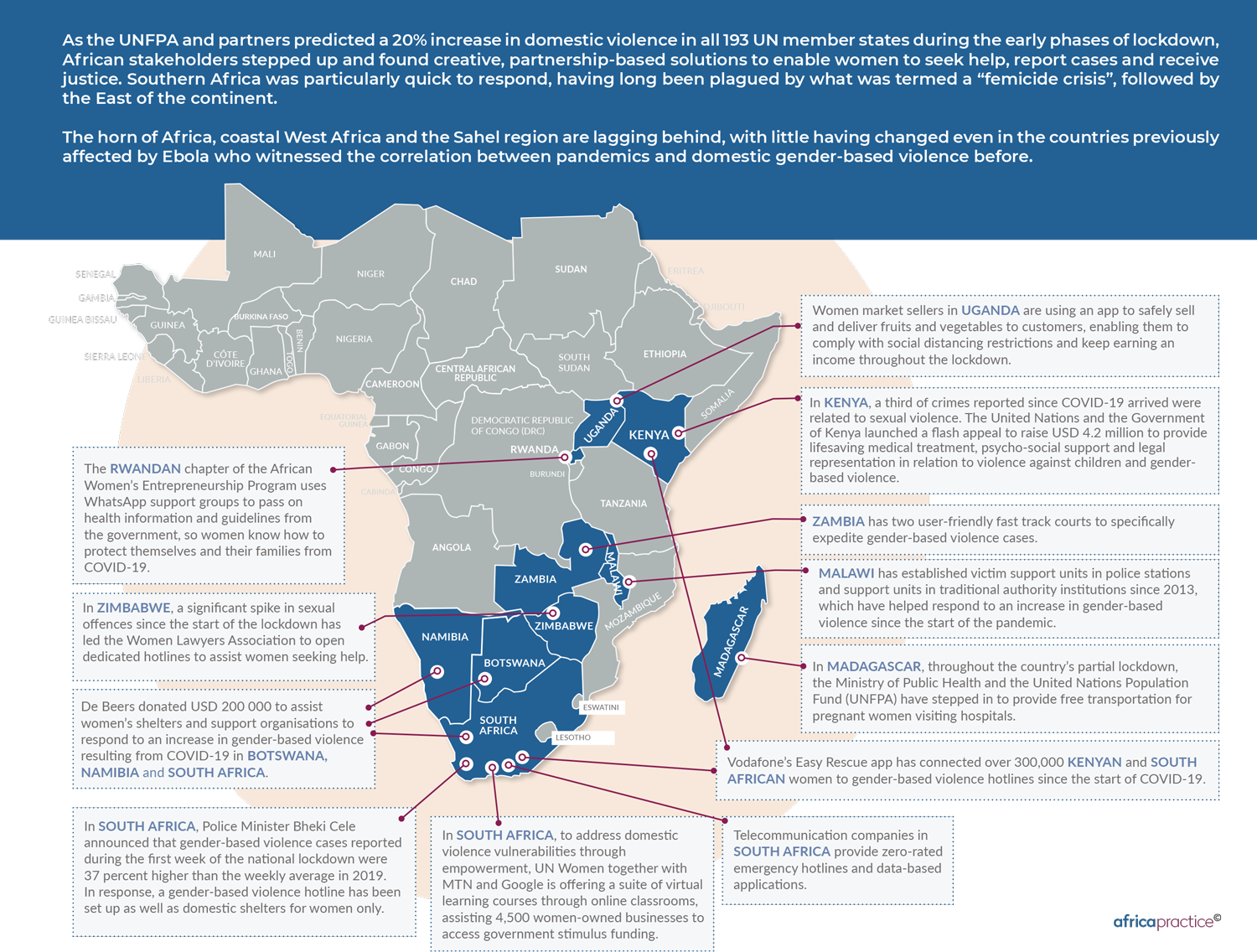 Across the continent, the COVID-19 pandemic has exacerbated the vulnerability of women and girls. Caregivers, nurses, midwives – African women are at the front-lines of the response to the pandemic and at the same time far more exposed to its negative impacts. At home, the risk of domestic violence has been heightened by quarantine measures imposed by most African countries. Lockdown measures have also cut women off from essential protection services, social networks and income opportunities, further increasing the wage gap and economic dependency. If several initiatives jointly led by governments and the private sector have been crucial in delivering emergency assistance to women – for instance by equipping tribunals to prosecute the rise in domestic violence and offering zero-cost emergency hotlines – they have not addressed the need for sustainable and transformative responses to gender-specific vulnerabilities.
Among the many response plans and stimulus packages announced by African governments, the absence of support measures targeting women is alarming, both for the livelihoods of women and countries' ability to relaunch their economy. Gender-responsive trade policies are essential for 90% of African women who work in the informal sector, such as trade vendors and domestic workers. Gender-targeted fiscal stimulus packages are vital to ensure the survival of small and medium enterprises, many of which are owned by women and dependent on female workforce. And measures to increase financial inclusion are vital to reach women who are otherwise often excluded from state fiscal support. Yet, COVID-19 policies and regulations so far lack such gender-specific elements.
The continent's ability to proactively respond to the crisis has been largely dependent on women's involvement. Governments are well advised to strengthen their gender mainstreaming stewardship to also reach women with their economic rescue and stimulus measures who will be vital for the continent's recovery.
About the author: Arnaud Liege is a Consultant at Africapractice. In this role, he advises clients on political, regulatory, reputational and security risks to support opportunity identification and strategic investments in sub-Saharan Africa.