In September 2023, Nigeria experienced an alarming 30.64% surge in food inflation, marking the highest increase in 18 years. This dramatic spike is not an isolated incident but a culmination of factors since the closure of land borders by the Buhari administration in October 2019. Supply chain disruptions in the wake of the COVID-19 pandemic, global food price shocks following Russia's invasion of Ukraine, and deep-rooted factors including inadequate storage and transportation facilities, and ongoing insecurity, particularly clashes between herders and farmers, have collectively exacerbated the food crisis.
Desperate measures for desperate times 
The repercussions are severe, threatening the health and well-being of vulnerable Nigerians. Approximately 34% of the Nigerian population across 26 states and the Federal Capital Territory (FCT) faced minimal access to adequate food in November 2022, according to the World Food Program (WFP), indicating a highly stressed food security situation. Alarmingly, 5.4 million more people slipped into acute food insecurity in the past year, summing up to around 17 million individuals – approximately 9% of the population. The situation is particularly dire in northern Nigeria, where approximately 700,000 children under five years old face life-threatening acute malnutrition.
In response, the United Nations allocated USD 20 million from the Central Emergency Response Fund (CERF) and the Nigeria Humanitarian Fund (NHF) to urgently ramp up the humanitarian response to the worsening food security and nutrition crisis in north-east Nigeria. Of this sum, USD 6 million was allocated to the WFP to provide food and voucher assistance to 95,000 severely food-insecure individuals in three Borno State garrison towns. Additionally, USD 2 million went to the UN Children's Fund to combat acute malnutrition with ready-to-eat therapeutic food and locally produced nutrient-rich solutions like Tom Brown (nutrient-rich, locally produced supplementary food). Another USD 1 million is supporting the Food and Agriculture Organization, providing tools for boosting local production of nutritious foods.
Bolstering the commendable efforts of humanitarian and development partners, the Nigerian government allocated NGN 200 billion (USD 250 million) to the Federal Ministry of Agriculture in its recently passed supplementary budget, with 47% of this allocated for the restocking of the strategic food reserves and the provision of farming implements equally distributed across the country. In addition to that, NGN 415 billion (USD 516 million) was allocated to the conditional cash transfer rollout, which is being supported by the World Bank. While this is commendable, it also reflects the federal government's failure to recognise the inequality in the situation of food inflation across the country, where northern Nigeria is disproportionately more vulnerable than the rest of the country, thereby leaving the issue of acute food insecurity to be dealt with by aid partners. 
Temporary support is becoming permanent 
Humanitarian aid, by its nature, is meant to be transitory, alleviating temporary shortages and in emergencies for vulnerable societies. However, in the past decade, humanitarian aid to northern Nigeria has almost become a constant source of funding and support for the most vulnerable in that region.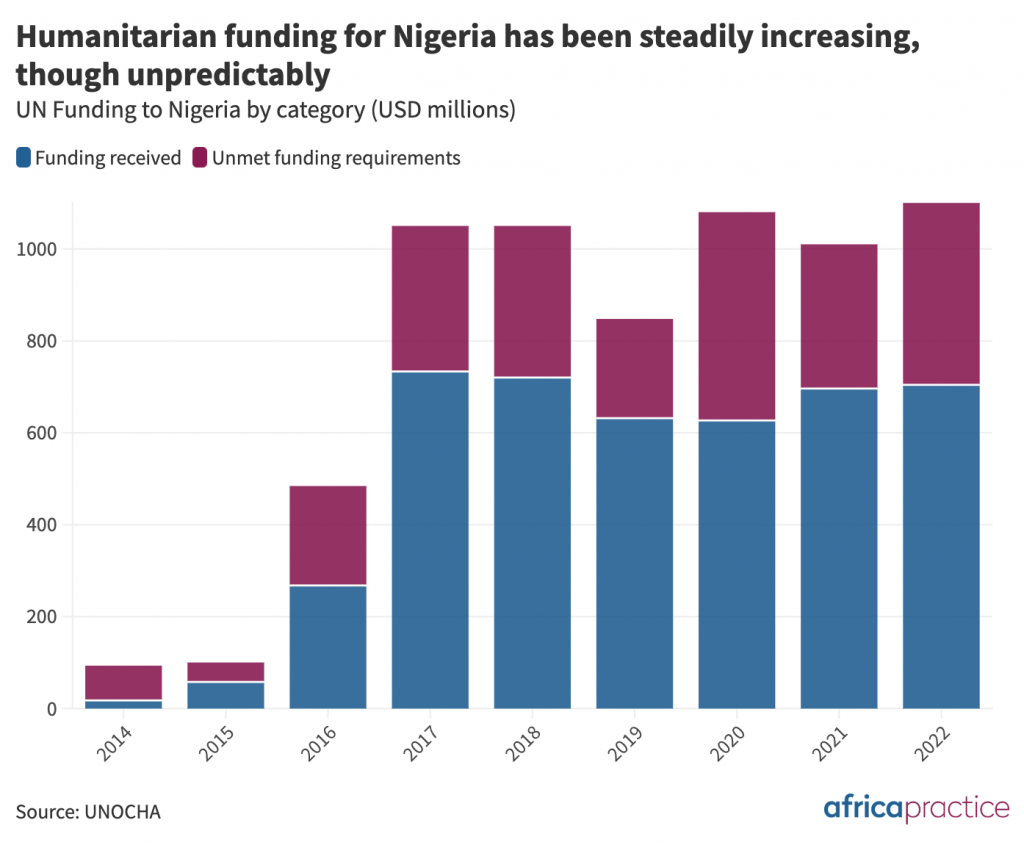 However, the persistent reliance on humanitarian aid as an ongoing solution raises concerns. As reflected on the chart above, UN funding to Nigeria increased significantly between 2014 and 2017, but donor pledges have since flatlined, with major shortfalls relative to funding requirements. Despite the unpredictable nature of aid flows, Nigeria has become increasingly reliant  on external support. If Nigeria is to reverse this trend and develop domestic resilience to crises and intermittent aid flows, then the government will need to build greater sustainability and self-reliance. This means dedicating meaningful attention to boosting agricultural production and guaranteeing food security.
Recent interruptions of aid to Ethiopia and Sudan, left millions without essential supplies. Such occurrences underscore nations' need to unite in aid efforts, fostering sustainable solutions. Collaborative funding mechanisms, such as a joint contribution from the Nigerian government and international donors, are crucial to ensure continuous support to vulnerable communities even without external aid.
Rising to the challenge
The gravity of the situation demands more than immediate assistance; it calls for a strategic shift toward sustainable solutions. It necessitates proactive engagement and shared responsibility between the government and international partners to secure the nation's food future. This is not just Nigeria's challenge; it's a global imperative to avert a sustained humanitarian catastrophe. Nigeria stands at a crucial juncture, demanding long-term strategies rather than stopgap measures. While immediate aid is vital, a transition towards sustainable, locally driven solutions is imperative to break the cycle of perpetual dependency on external support. 
The resilience of any nation lies in its ability to ensure food security for its citizens. It's time for Nigeria, alongside international partners, to step up – collaboratively and strategically – to address the root causes of this crisis and pave the way for a self-sufficient and secure future. The current food crisis is not just a test of immediate responses; it's a clarion call for a sustainable and collective approach toward building a more food-secure nation.
About the Author
Gbemisola Alonge is a Consultant at Africa Practice. She works with development clients across Anglophone West Africa conducting research, providing analysis and insights, and supporting stakeholder engagements. She can be contacted at [email protected].
Image credit: Stefan Heunis/AFP/Getty Images