"We are keen to harness the opportunities of the hydrogen economy. We aim to be not only an important hub for the production and export of green hydrogen, but also of green *ammonia," South African president Cyril Ramaphosa declared in his keynote address at the annual African Mining Indaba conference in Cape Town last week. His commitment to green hydrogen – that is hydrogen produced from renewable energy sources –  is built on strong foundations. 
In February of this year, the South African Department of Science and Innovation (DSI), published a Hydrogen Society Roadmap, which sets out a national hydrogen strategy aimed at realising domestic energy security needs, while also positioning the country to export green hydrogen and ammonia to Europe and Asia. The DSI estimates that up to 3 million jobs can be created from realising  plans set out in the Roadmap. Four projects, including the Platinum Valley Initiative (South African Hydrogen Valley) are expected to contribute at least USD 5 billion to the South African economy by 2050.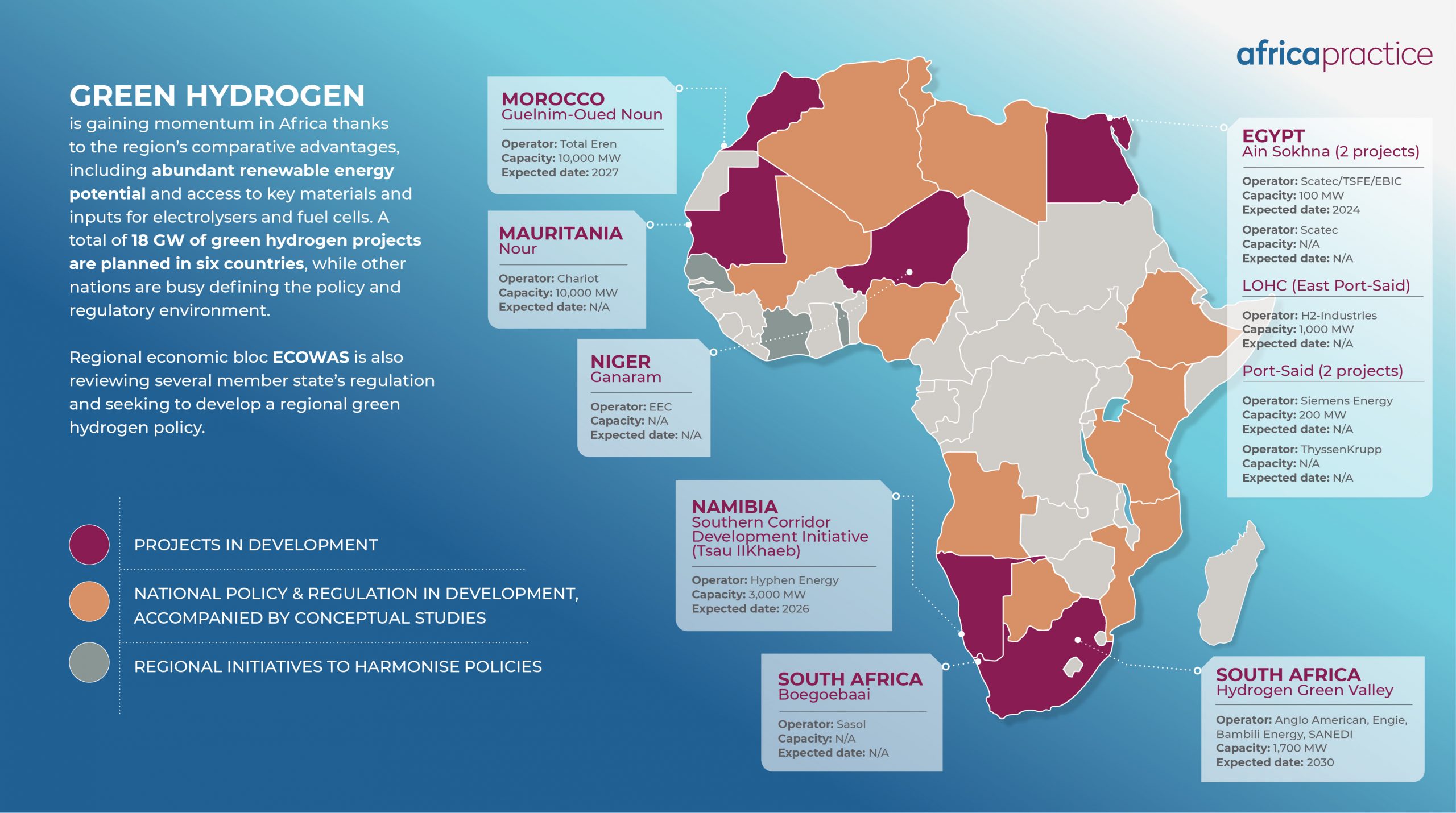 South Africa is at the forefront of the green hydrogen revolution, driving policy-makers and industry leaders across the world to recognise the potential of green hydrogen to decarbonise industry. This is particularly true of hard-to-abate sectors such as steel and chemicals, where electrification is not feasible at present, and heavy-duty transport, which cannot be decarbonised without green hydrogen. The International Council on Minerals and Metals estimates there are 28,000 haulage trucks operating on mine sites globally, producing the same emissions each year as the nation of Austria. Converting these diesel powered trucks to zero-emission vehicles is crucial for miners to reduce their Scope 1 emissions.  
A major milestone on the road to decarbonising mining activities was realised recently, when at its platinum group metals (PGMs) mine in Mogalakwena, Limpopo Province, Anglo American launched a prototype of the world's largest hybrid hydrogen mine haul truck, following a collaboration with Engie. With diesel emissions from Anglo American's haul truck fleet accounting for about 10-15% of its total Scope 1 emissions, the roll out of green hydrogen powered trucks is an important step towards the company achieving carbon neutral operations by 2040. 
The development of green hydrogen technology is also a boon for Anglo American – and for South Africa. Platinum is a key component in electrolysers for hydrogen production, and catalysts in fuel cells. Anglo American is the top global producer of primary platinum; while South Africa is the world's largest producer of PGMs (platinum, palladium, ruthenium, rhodium, iridium and osmium), accounting for 75% of output globally. 
The latest and sixth assessment report of the International Panel on Climate Change (IPCC), published earlier this year, provides a stark reminder of the impact that global warming is having on millions of people around the world annually. The IPCC warns that more severe impacts are in store if we fail to reduce greenhouse gas emissions by half and limit global warming to 1.5 degrees celsius. Against this backdrop, renewable energy solutions were the dominant theme at the Mining Indaba conference this year.  
One of the largest exhibitors at the conference was the German government, which is eyeing Africa's abundant minerals and natural resources – including copper, aluminium and battery metals such as lithium – as a means to reduce dependence on Russian gas and promote the development of a low carbon economy. The G7 nation is collaborating closely with the Namibian government to support the country's green hydrogen development initiatives, with the aim of securing imports from the southern African nation in the future. Several African nations – boasting an abundance of wind, solar, water and land – are now following suit, developing their own plans to harness the potential of green hydrogen. 
The African Hydrogen Partnership (AHP) – a business association formed to promote hydrogen technologies, support OEM development and work with African governments to establish the appropriate policies and regulatory frameworks for the development of  the sector – is welcoming new members at a fast pace. Siggi Huegemann, initiator and co-founder of the AHP, is clear about the opportunity that green hydrogen presents for African nations: ''Without African green hydrogen, the world cannot decarbonise.''  
African nations have a once in a generation opportunity to establish themselves as lead players in the hydrogen economy, and to realise national socio-economic development imperatives in the process. Namibia, South Africa, Morocco and Egypt are each at advanced stages of preparedness, with master plans developed, investment incentives introduced and commitments from private project partners secured. Kenya, the Horn of Africa, Mali and Mauritania are following close behind. More African nations are expected to announce plans for developing green hydrogen ahead of the 27th Conference of Parties in Sharm-El-Sheikh, Egypt, in November.
The race is on for African nations to harness their abundant minerals and natural resources to  become primary players in the production of green hydrogen. This vital zero-emission energy vector can be transformative to economic development on the continent and can establish several African nations as natural capital superpowers.
About the Author 
Marcus Courage, CEO at Africa Practice.
First published in Mining Review Africa
*Ammonia is used in agriculture as fertiliser, and is also used as a refrigerant gas, for purification of water supplies, and in the manufacture of plastics, explosives, textiles, pesticides, dyes and other chemicals.