Nigeria is struggling to find and build the appropriate political and governance institutions to administer a large, youthful and ethnically diverse population in the 21st century. The governance model that the current generation of political leaders inherited needs to adapt to meet changing societal dynamics, the increasing role of technology and the demands of changing demographics.
As Nigeria enters its second recession in five years, the widening gulf which now exists between the country's political elites and those they govern is not simply a matter of wealth, it is also one of empathy. The World Bank estimates have projected that 7 million more people will be tipped into poverty in 2021 due to the pandemic.
The dire state of the country's economy and state of security has – for the average Nigerian – created the perception that the nation's political elites have different social and political values from them, and that they no longer work in solidarity with them.
The #EndSars movement was a manifestation of these divisions and frustration with established governance structures. Against this backdrop, a small group of civil society leaders convened to exchange views on ways to improve the state of governance in Nigeria and specifically ways to improve the social compact which has eroded in the eyes of many citizens, particularly the youth.
The views and opinions exchanged by participants have been compiled for Stories Africa and is available for download below.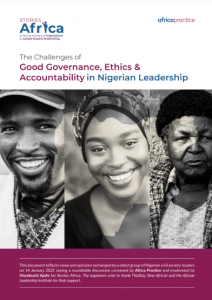 —
Africa Practice wishes to thank ThisDay, New African and the African Leadership Institute for their support.