Galvanising green investment
As illustrated at COP26, international partners – including governments and philanthropic organisations – are ready to support Africa as it seeks to mitigate the impact of climate change and navigate the energy transition. 
Governments have demonstrated their ability to leverage international investment in their climate response, as showcased by Gabon's role as a "green superpower," Nigeria's pledge to restore 4 million hectares of degraded lands under the Great Green Wall initiative, and South Africa's ability to secure USD 8.5 billion to finance a "just transition," reducing its reliance on coal. 
In partnership with ClimateWorks Foundation – a global platform for philanthropy to innovate and accelerate climate solutions that scale – Africa Practice completed six market assessments to chart the opportunities and challenges for climate philanthropy on the continent.
Please click to download our reports on Kenya, Ethiopia, South Africa, Nigeria, Ghana and Senegal. Our assessment of the political, institutional and sectoral enabling environment for climate investments in each of the six countries is summarised in the matrix below: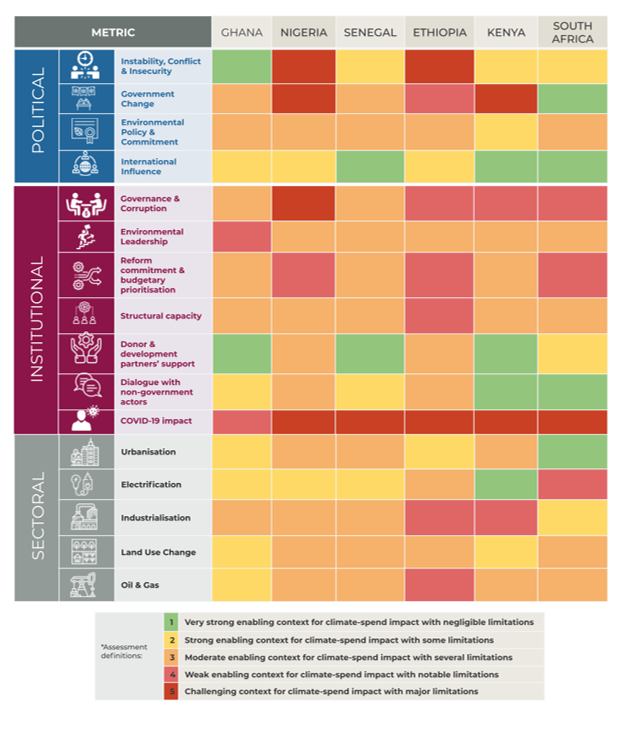 Africa currently receives only around 4% of known foundation funding for climate mitigation. Supporting ClimateWorks Foundation, Africa Practice mapped out the near-term climate philanthropy opportunities in six countries on the continent: Ethiopia, Ghana, Kenya, Nigeria, Senegal, and South Africa. You can access these climate philanthropy assessments here.