Nigeria's youth – those aged between 15 and 35 years old – has recorded a massive boom, and is now estimated to represent 70% of the total population. This has created a new generation of reform-minded political agitators. 
A record 37 million young people aged between 18-34 registered to vote in this year's presidential elections, according to data from the Independent National Electoral Commission (INEC). This youthful demographic is more acutely sensitive to the prevailing economic difficulties in Nigeria than preceding generations, and blames the old guard for the country's woes. 
Social media has boosted youth political activism in Nigeria, with younger activists highly visible across multiple platforms. Youth are closely associated with the Obidients (supporters of presidential aspirant Peter Obi), and the #EndSARS movement (which campaigned for reforms to the police force). In this year's elections, youth activists took to Twitter, Facebook and WhatsApp to garner support for candidates whose campaigns are aligned with their goals of  better governance. 
Offline, however, Nigerian youths struggle to make their voices heard and to improve living conditions. This has forced the youth to adopt innovative solutions to prevailing conditions in their communities. 
2023 elections 
This year's election was described by INEC as a "youthful election", given the unprecedented level of interest it sparked, especially among the majority youthful population, which turned out for third-party candidate Peter Obi. The youth vote enabled Obi to significantly challenge the dominance of the All Progressives Congress (APC) and the People's Democratic Party (PDP) in their strongholds, notably in Lagos state and parts of the North Central, South South and South East regions. 
Youth participation in formal political processes is key for democracy. When the youth are not sufficiently represented in electoral positions, their influence over policies is also muted. As long as the youth continue to be marginalised in decision-making, they are set to continue to agitate for a more inclusive  political system. 
Systemic limitations 
The youth face an uphill battle. Nigeria's political system has repeatedly re-elected veteran career politicians. The incumbent president, 80-year-old Muhammadu Buhari, is a prime illustration of this. He was in his youth when he seized power in 1983. Shockingly, Buhari reinvented himself as a "converted democrat" and twice secured election as Nigeria's elected president, remaining in office 40 years later. 
Political dinosaurs like Buhari have sticking power because youth political participation in Nigeria remains constrained by provisions of the law, the significant financial resources required, a lack of political awareness, and widespread apathy. 
At the individual level, political apathy is fueled by distrust in electoral bodies, limited knowledge about political processes, and a perception of politics as a dirty game. Parties, government and civil society organisations dedicate little attention to policies and initiatives targeted at overcoming these perceptions and incentivising youth participation. Tied to this, many Nigerians see politics as an activity for the older generation, often men and wealthy individuals. This tradition has resulted in the systematic exclusion of youths. 
Barriers to entry
Political parties select candidates based on those who have the resources to mobilise voters. In this respect, party structures act as gatekeepers of elected offices. Youthful candidates typically fail to secure nominations as a result of their limited resources. Meanwhile, party youth wings are restricted to supporting the campaigns of older party members and recruiting new party members. 
The prices of nomination forms of major political parties have ranged from tens to a hundred million naira in recent election cycles. These prices shut out young people as they do not reflect the country's economic realities. For the 2023 election, nomination forms for the All Progressives Congress (APC) shot up by 122%, while those for the Peoples' Democratic Party (PDP) increased by 233% relative to the 2019 price. 
After purchasing nomination forms, candidates must contest their party tickets for the various positions in a primary election. These elections are repeatedly won by the richer candidates, as the process is marred by widespread vote buying. 
Although the Electoral Act places a cap of NGN 5 billion on election spending for presidential elections, and NGN 1 billion for governorship elections, there is little to no pressure to ensure compliance. 
Age restrictions
The 1999 constitution introduced age limits for political office, prohibiting candidates below 40 years old from standing for the presidency and those below 30 from contesting legislative elections. However, in May 2018, President Buhari signed into law the Not Too Young to Run Bill.  This enabled those aged 30 and above to stand for the presidency and the Senate; and enabled 25-year-olds to stand for election to the House of Representatives and state legislatures. 
Despite this step, the bill has yet to result in greater youth participation and a shift in the composition of elected bodies. Nigeria's youngest elected Governors, in Rivers and Ebonyi states, are 48 years old; while 64.5% are aged 49-60 years old, with a further 29% of retirement age.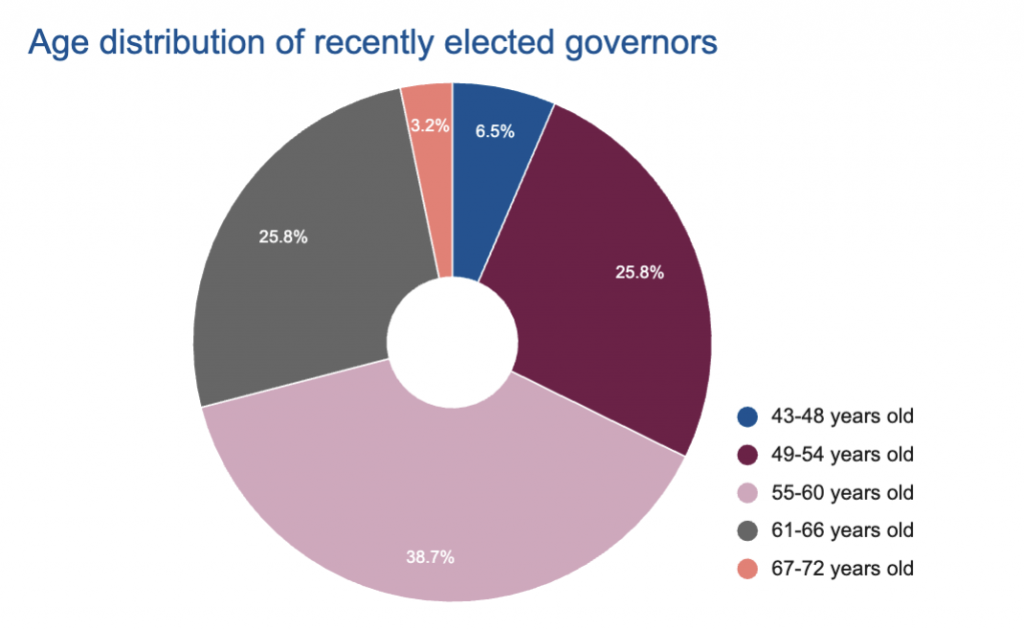 What is the way forward? 
Further work is required to create an enabling environment which will foster youth participation. On the legal front, the next government could review existing political party constitutions, and introduce new legislation to drive increased participation. In the political realm, there needs to be greater collaboration between INEC and Nigeria's parties to develop mentoring and leadership programmes which might counter exclusionary practices. This could include subsidies to facilitate access to political financing – following the model laid down by the National Youth Service Corps (NYSC) fund. 
About the author
Abdulmumin Usman is an Analyst at Africa Practice, with a focus on political economy, tech and impact and advising clients in Nigeria, Ghana and The Gambia. He can be contacted at [email protected]
Image credit: Wikimedia Commons/King Dayo