A landmark project in Africa
Equiano – a next-generation subsea internet cable spearheaded by Google – will run from Portugal to South Africa, along Africa's Atlantic Ocean coastline. In 2022, it is expected to land in Lagos (Nigeria), Cape Town (South Africa) and Swakopmund (Namibia), with branching units in place for further phases of the project.
Google commissioned Africa Practice and Genesis Analytics to produce a regional economic assessment, modelling the cable's impact on connectivity, economic growth, job creation and CO2 savings in these three countries. Our main findings are illustrated in the infographic below. You can read the full report here.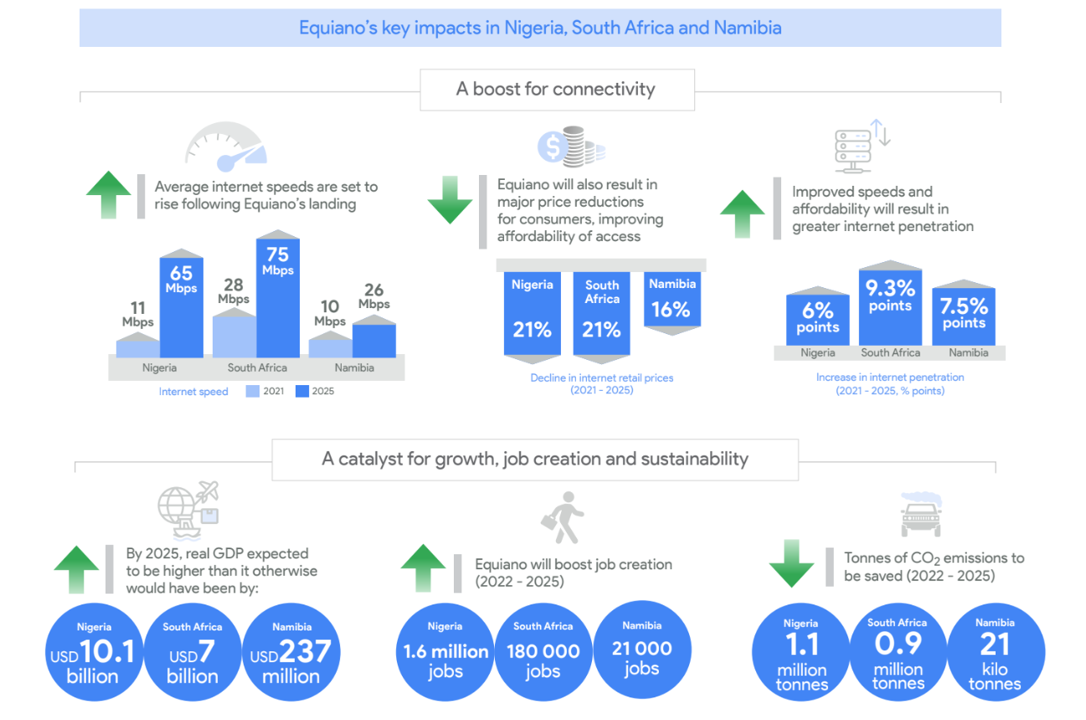 Equiano will have a direct impact on connectivity in all the countries in which it lands, resulting in faster internet speeds, improved user experience, and reduced internet prices. By increasing international bandwidth, Equiano will indirectly broaden access to the internet, thus contributing to narrowing the digital divide within the countries where it lands, as well as between them and regions where connectivity is more developed.
The cable is also set to accelerate economic growth in Nigeria, South Africa and Namibia. By 2025, real GDP in these countries is expected to be higher by USD 10.1 billion, USD 7 billion and USD 260 million, respectively, relative to what it would have been without the cable.
Improved connectivity also accelerates job creation. Between 2022 and 2025, Equiano should indirectly create 1.6 million jobs in Nigeria, 180,000 in South Africa and 21,000 in Namibia, driven by the expansion of the digital economy and peripheral sectors
Press enquiries: [email protected]
For more information on our approach and expertise in conducting similar studies, do reach out to the Africa Practice team.